Charlie and Aimee Ely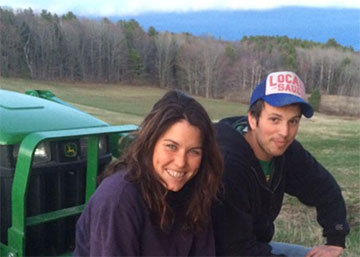 Charlie began the burrito cart as a way to try out his hot sauces on a large crowd. His dedication to making great food with great ingredients slowly began to transform the food cart. As Charlie likes to say, when he brought Aimee on, she promoted herself to COO and he became a cook. More honestly, our transition from food cart to catering to restaurant happened because of the amazing people we met through our original burrito cart.
We've met so many great farmers whose passion is evident in the food they produce. Charlie continues to be inspired to find new and exciting things to do with the ingredients he sources. The natural extension of the business was to begin our latest venture, Locally Sauced; a brick and mortar restaurant on Thompson's Point. We continue our tradition of using only the best to serve the best – and hope to make each person that comes in feel that personal connection.
VISIT US IN YARMOUTH:
30 Forest Falls Drive
Yarmouth, ME
Map/Directions
(207) 847-3035
Giving Back
Part of our culture and business model was always to give back. So for each sale over $50 we will donate a dollar to our featured non-profit. Each of these listed below have been or are currently being featured, you can come in and know part of your meal is going to a good cause, or you can click on these donate links below. Thank you!
Our featured non-profit February/March was Yarmouth Cares About Neighbors, for March/April, we chose the Locker Project and for May/June we're donating to Maine Needs.